The varmala is one of the important rituals in the Hindu religion. However, varmala is also used in other religions as well for welcoming family members. When it comes to the Hindu varmala ceremony, it is a sign for the bride and groom to accept each other for the rest of their life.
Hence, just like makeup, jewellery, and the couple's outfit the vermal is also a big part of the couple's look throughout the bride's Garah Pravesh(HOUSE INAUGURATION). Wedding photography in Kolkata finds some eye-catching Verma designs for couples to look beautiful.
1. The Beauty Of Evergreen Full Red Rose Varmala
The evergreen rose Varmala has been used for thousands of years as a symbol of love. Its eye-catching red colour makes your outfit more bright and brings positive vibes to the environment. You cannot ignore its soothing natural scent which is far better than any artificial deodorant brand. Roses come in many colours but red is everyone's favourite because of its beauty. So, whenever you're going to buy a Varmala make sure it's made with big red roses only. It not only looks good on you but it's also helps the wedding photographer in Kolkata to show your full attire in a single frame.
Image Courtesy: Flowers Delivery Gurgaon
2. Two Flowers Is Better Than One 'Red and White Rose'
White is symbolic of peace and calmness. It shows how confident you're about your wedding and makes you feel comfortable. If you add both the red and white roses together then you can feel the love with peace that combination is majestic and enough to bring joy to the tense wedding ceremony. The best part of the fusion of both red and white roses is its creation of contrasting shades which look perfect with the white sherwani of the groom and the red saree of the bride. It suits both outfits plus you can customise it with other clothes as well.
Recommended: Top 10 Haldi poses for bride  
Image Courtesy: Manish Sharma
3. Let's Try Some Sweet Pink Rose Varmala
Light pink is the sweetest color you ever find on any flower and that makes it one of the prettiest varmala from others. This subtle and elegant Varma showcase reflects your face's beauty without any extra makeup. Just wear a light colour outfit with this beautiful varmala. It automatically increases the overall beauty of your outfit plus it spreads a positive vibe on the environment. As the best wedding photographer in Kolkata, we can assure you that in most photos the groom looks more charming with pink flowers than the bride.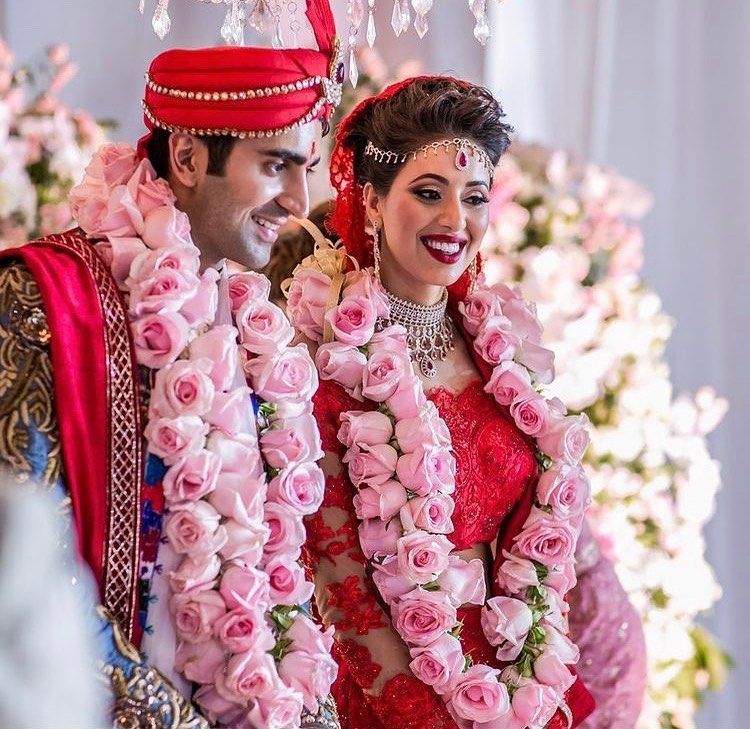 Image Courtesy: Wish N Wed
4. Simple Rose Petals Varmala Of Love
If you don't want to go with the traditional varmala design then you can try petals. In this rose Varmala design only flower petals are used. You can even buy the multiple flower petals design or you can customize it according to your interest. Petals varmala is more lightWeight than a full flower varmala and that makes it easy for brides to wear it for long hours. We have completed thousands of wedding photographs in Kolkata and we see multiple birds who are struggling with their heavy varmala. So, we can say that petals are one of the best varmala, if you're looking for something simple and lightweight for long hours.
Recommended: 15 Food Items you must serve at a Bengali wedding  
Image Courtesy: Little Flowers Delhi
5. True Beauty Of Gypsophila Varmala
Baby breath flowers are small and look extremely beautiful with any other flower. Nowadays the combination of baby breath flowers and roses is becoming very popular among the younger generation. It looks like a couple wearing a garden on their neck and known as Gypsophila Varmala. You can use some extra bouquets with Gypsophila Varmala to increase the look of your varmala design. Although some couples prefer Gypsophila Varmala with red, and white and even use pink rose as well. You can even choose the number of roses and baby breath in your varmala.
Image Courtesy: Naman Verma Photography
6. Full Lotus – The Divine Varmala
Lotus is another heavily used flower in India for almost all rituals. This is the only flower you can see in all Hindu gods' pictures. The lord Brahma sits on a lotus and the lord Krishna also has a lotus on one of their four hands. This is why lotus are considered one of the purest flowers in India. It also comes top in one of the most beautiful flower lists. So, you cannot ignore its divine power with mesmerising beauty. As the lotus grows more easily than roses in India its price is comparatively cheaper yet its market is much bigger than other flowers.
Image Courtesy: Wedding Bells
7. Multiple Rose Fusion Varmala
White, red, and pink are easily available roses in India but there are a total of sixteen types of roses available on the earth. If you get bored of viewing the old age varmala at other wedding ceremonies and want to try something unique in your wedding then you can try fusion varmala. Everyone has a different name for that type of varmala, you can add all types of roses in a single varmala for your and create something fresh. Although, its price might get higher as per your location but trust wedding photography in Kolkata, it looks fantastic if shades are used properly.
Recommended: Get affordable wedding photography packages
Image Courtesy: Karan Sidhu Photography
8. Why Not Try Orchid Varmala
Usually, orchids are used in weddings, temples, and other ceremonies for decoration. However, it has the most unique colours from other followers and that makes it one of the prettiest flowers on the earth. Orchid varmala is combined with small leaves and that creates a simple combo of mother nature. It also can be used without the leaf and single rose flower in the bottom. If you want to feel something fresh then you can buy the blue orchid varmala as well. The combo of both flowers is also available in the market. So whatever you choose, it's going to look great with your attire.
Image Courtesy:  Romesh Dhamija
9. Sweetest Combo Of White And Light Pink Rose
There are multiple colours of roses available on the market, the most used one is red and the least is black. But, light pink and white also has a strong position. This combo is sweet, creamy and one of the prettiest out there. Lots of creative people prefer this combination because of its simplicity. Red rose colors are bright but there are only two colour roses which can bring the class in the varmala and that is white and light pink rose Varmala design.
Image Courtesy: Ivy Weddings
10. Greenery With A Colour Varmala Design
There are some vintage look varmala you can try. The full leaf varmala with half bloomed roses was used in the old days and it looked simple, pretty, and classy at the same time. It's loaded with seven roses and the rest are leaves. It didn't even take time to make it although it's almost available on all sessions in all locations. So, you don't have to worry about its availability in your location.
Image Courtesy: Wedding Nama